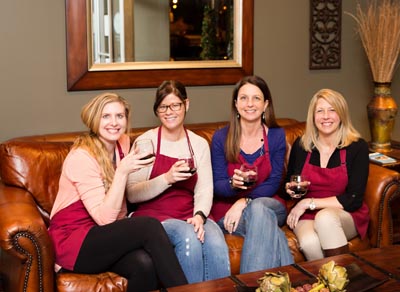 The Dinner Club is the perfect place to host your next party or get-together.
To host a private party, you must have a minimum of 10 to 12 people, ordering at least 8 meals each. Each guest selects and pays for their own meals. Here is what you need to know about planning a private party or fundraiser with us:
Call or email us to book a private party. Please have several dates available that work for your group. We recommend booking a month in advance. Parties must be booked at least 2 weeks in advance.
We will provide you with a party password, which your guests will need to sign up for the party online.
As the Party Host, you will log into the Party Manager to create an email list of your party guests. You can then send guests an email invitation to notify them of the date, time and password for your party. We also recommend sending reminders and invites from your private email account to make sure the email coming from our website is not lost in their Spam account. Several reminder emails to your guests are recommended.
After receiving the email invitation, party participants can then go to your party session and choose from that month's selection of delicious and healthy meals. They will use the party password provided when selecting the party. If preferred, any participant can call the appropriate store to reserve a spot. Please note: the party password is just to get past the calendar. Each guest will need to register and login with their own personal account to make their reservation. Each guest will receive an order confirmation with the meals they selected.
As the party host, you can see who has RSVP'd to your party in the Party Manager. Please note, in order to see who has RSVP'd, each guest would need to have used the same email address you entered into the Party Manager. You can also get updates on who has signed up by calling or emailing our store.
If your party does not have at least 10 reservations signed up for an 8 or 12 meal package 7 days prior to your date we will open the session up to the public to fill the remaining spots.
We provide one appetizer and fresh baked cookies for our evening groups. Feel free to bring additional food if you desire.
Wine and beer can be purchased during your party. We are not a BYOB business. No outside alcohol is allowed.